Main Frame
The frame is of heavy duty design and hot rolled welded steel plate construction. The shearing table is Integral with the basic machine frame to ensure maximum rigidity.

Hydraulic Power pack Unit
The hydraulic Power pack unit is with pump, motor and valve with block assembly is conveniently located in the back upper part of the frame with the oil reservoir all necessary hydraulic valves are mounted on the compact designed manifold block The Large size of oil reservoir is provided for adequate cooling and increases of oil life. All the Components are used of reliable and reputed internationally available brands.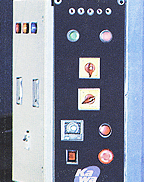 Comprehensive Control Panel
The control panel is conveniently mounted on the left hand side of the machine to ensure ease to operate when working from the squaring arm end. The panel house push button controls for motor on/off, rake angle position setting, to select operating mode single or inching / continuous shearing operations. And optionally provided motorized back gauge control with digital readout display unit and push button control for motorized/hydraulic blade gap adjustment when optionally provided is also situated on the control panel.
Single/Continuous shearing
The shears have 2-oprating mode. Selector switch is provided to select single or inching / continuous shearing operation.
Stroke length control
The length of cut is infinitely adjustable and it can be selected to provide optimum production output for length of blank to be sheared. And avoid unnecessary blade wear.

Blade Rake Angle Adjustment
The optimum rake angle is set via a selector switch at control panel and allows for selection of the correct rake angle to suit the material being sheared. By increasing or reducing the angle, a semi blanking action is obtained to give minimum distortion of the sheared blanks.

Blade Clearance Setting (Blade Gap Adjustment)
Manual blade gap adjustment is standard on all models, with lever and calibrated scale for various thickness on both side of the machine to adjust the clearance between top & bottom blade According to the sheet thickness. Motorized/Hydraulic blade gap adjustment is available as an option. Motorized/hydraulic blade gap adjustment is provided as option and is operated by push button control and through plc. Controls.

Back Gauge
All KAWA Shears are equipped with manual Back Gauge arrangement. As an option motorized Back Gauge, Motorized 2-speed back gauge with D.R.O. The Motorized Back Gauge is operated from the control panel and dimension being read from the Digital Display. LED type and NC Back Gauge can be provided. On heavy model the retraction type Back Gauge arrangement to allow the plate to fall away freely after shearing. And any other automation also available through plc. Controls.
Shadow Line Lighting
Shears are equipped with shadow line lighting to facilitate shearing to a scribed line.
Hold-down Jacks
Kawa-Shears are fitted with a set of hydraulic hold-down jacks, clamping force of hold-down jacks is automatically adjusted according to the cutting force required, allowing for higher pressure Clamping for thick material while at the same time clamping thinner materials without marking.
Table
Kawa Shear are built with a solid table and T-slot front adjustment for positioning of the squaring and support arms.
Squaring Arm and Sheet support
All shears are equipped with a 900mm length squaring arm with flip-over stop and 500 mm, support arms with disappearing stops arrangement. Longer squaring and support arms are also available as an option.
Shearing Blade
The Kawa Shears are equipped with HCHCr up to 10mm thick to cut and above 10 mm HCSr resistant Tool Steel AISI D2, AISI S1 and AISI S2 material for Blades in full length with Four Cutting Edges. They are suitable for Cutting Mild Steel and Stainless Steel Sheets.
CNC Control-Shear
Kawa Shears can be supplied with CNC control for automatic operation of the motorized Back gauge, Automatic blade rake angle setting, blade clearance setting, fault indications and cutting length control. The CNC control has Imperial/metric read-outs, and can be accommodate up to 100 programs with memory backup and diagnostics.